Coating & Material Science Business Unit
Industry's Most Advanced Window Film Manufacturing Facility
Throughout its 40 years of history,
Sangbo's CMS(Coating & Material Science) Business Unit
has sought to apply nano technology in the field of coating through continuous R&D, successfully developing various high-performance and special purpose window films, exported to over 60 countries.
CMS BU's four primary technologies - optical design, materials design, formulation technology, and coating technolog - are the results of proactive investment and R&D in coating and material technologies.
CMS BU's core technology of materials design and formulation, allows it to produce the industry's top nano coated films with outstanding heat rejection, superb visibility, longevity, and easy installation.
Meanwhile, Sangbo's production facility has evolved over the past 40 years, building on its know-how and in-depth understanding in coating and converting technology. Sangbo offers the most technologically advanced window film manufacturing facility in the industry, owing to its continuous research on advanced coating methodologies and machinery.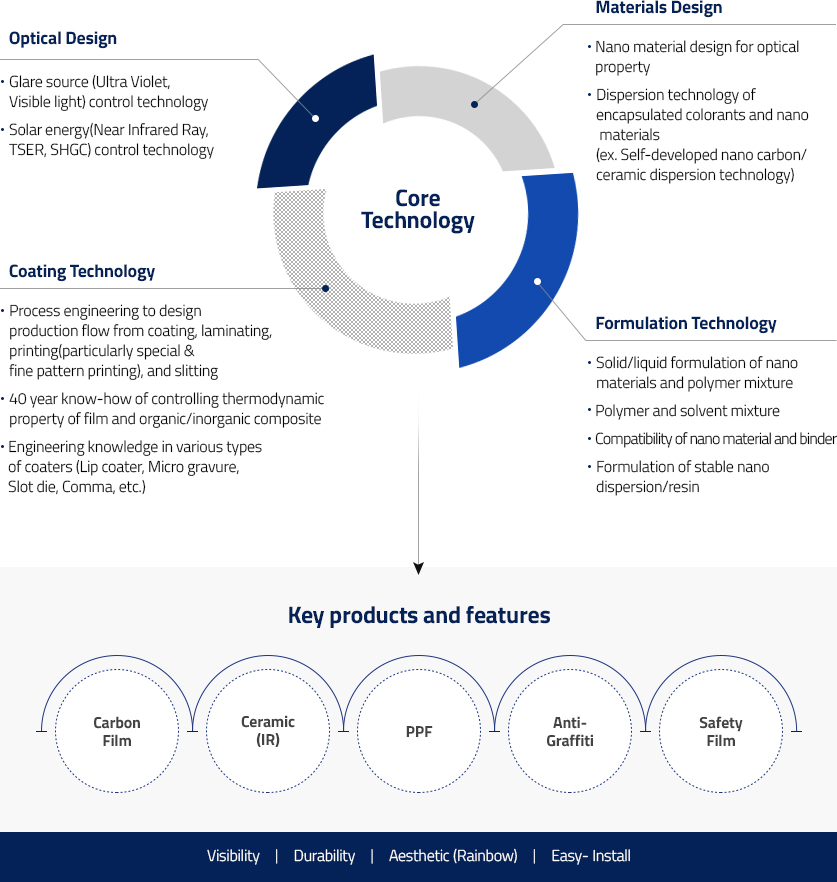 Carbon Film
Carbon, carbon ceramic, and carbon metal window film technology with the best durability worldwide
Selective heat-rejection rate according to customer's needs
Low-haze through special nano dispersion technology
Ceramic (IR) Film
Highest IR Rejection (90~99%)
Superior heat rejection performance at competitive price
High VLT with heat rejection, compliant with U.S. and EU regulations
Windshield films with top specifications (VLT 80% / IR Rejection 99%)
PPF
Easy installation based on specialized PSA technology
Simultaneous self-healing & hydrophobic performance
Anti-Graffiti
Lowest rate of adhesive residue compared to competitors based on excellent PSA technology
Outstanding anti-stain performance based on advanced coating technology
Safety Film
Best-in-class optical clarity
Highest performance in anti-scattering and UV-rejection
Sangbo's technological strengths have empowered the company to offer the industry's best high-performance films that guarantee efficiency, productivity, stability, and quality.
Sangbo is the world's leading provider of qualified window films, paint protection films, safety films, exterior films, and anti-graffiti films.
Sangbo's functional architectural window films are highly recognized for their non-discoloration durability, energy savings and superior performance. As such, Sangbo's highly referenced and best-quality products are used in airports, hotels, shopping malls, banks, and other landmarks around the world.
Sangbo's automotive window film is distinguished for its clarity, heat control performance, longevity, and easy installation. Sangbo supplies its automotive window film products to globally known window film brands as ODM.
Sangbo's paint protection film offers the industry's most advanced gloss, self-healing, hydrophobic, anti-fouling, and solvent resistant properties, enabled through its superior top coating technology. It also provides excellent elongation and easy installation with its premium non-yellowing TPU and advanced adhesive technology. The excellence and potential of Sangbo's PPF products have been proven through ODM references of major global PPF brand companies.
The CMS BU at Sangbo consists of Research & Development, Marketing, Hyper-Customizing Production System, Systemized Quality Control, and Packaging and Delivery departments, all organically integrated to meet customer needs in technology and products.

Innovative R&D Marketing
Quick and unique product development process
Best R&D infrastructure and high-tech facilities
Open innovation through joint R&D with global businesses and research centers
Marketing consulting for product development and developed products
Hyper Customizing Production System
Optimized Production Planning System
Sophisticated Manufacturing Execution System Shop Floor (MES)
Stable production and quality by standardization of entire manufacturing process
Flexible production of various types of coating products based on a variety of coating machines and related experiences
Small quantity production with customized manufacturing machines supported by a small batch system
Excellent logistic management system
Systemized Quality Control
Dedicated quality control with systematic process and professional training programs
High standards of quality control process including self-developed inspection method and vision inspection by special purpose camera device and algorithm
Management of quality history records
Full systematic inspection process from materials to finished products
Reliable Packaging & Delivery
Reliable Delivery System based on 40 years of export to over 60 countries
Packaging & Design capability derived from printing business since 1977