Product Development
Customize Your Own Film Products!
Customer product development
Sangbo's HCPS Service is supported by an industry leading corporate R&D Center. It is housed with outstanding researchers working to develop and deliver products that match completely with customer's needs.

Product development
Design your own products with Sangbo's HCPS Service
Product development is classified into three classes based on application, functionality & performance, and material & structure: A, B, and C. The development period may range from two weeks to eight months. Customers who wish to launch differentiated products in the market may obtain exclusive rights to the resulting products by paying development costs. The cost of transfer ranges from USD 2,500 to USD 40,000, depending on the development class and whether customers opt for exclusive rights of ownership.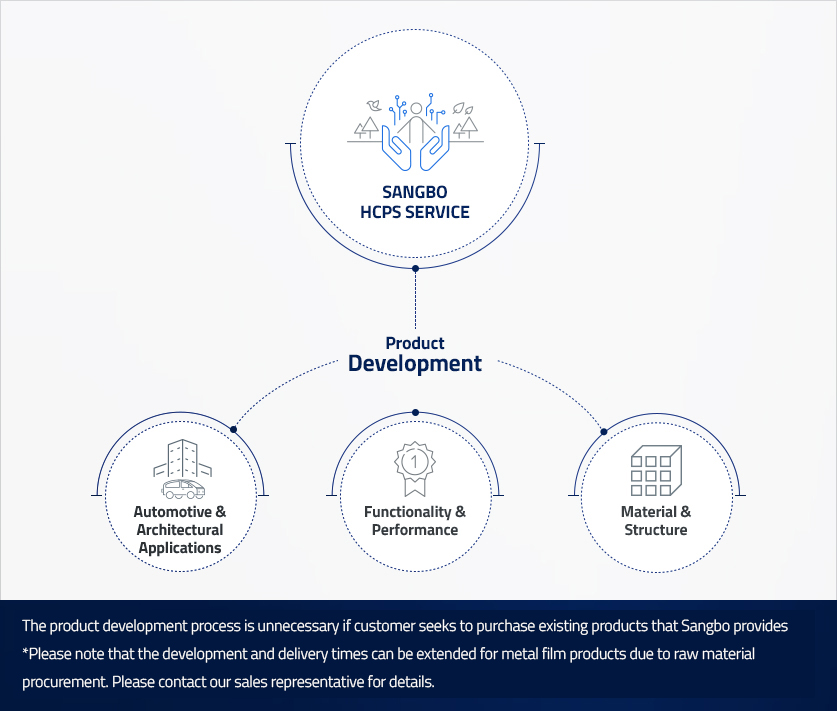 Product Development Grades
Product Design Guidelines

| Grade | Descriptions |
| --- | --- |
| Grade A | New & higher specifications products, lab sample x1 |
| Grade B | Film structure and coating material variation of listed products, lab sample x1 |
| Grade C | Color, IR Rejection, VLT variation of listed ODM products, lab sample x1 |
Product Development Period & Cost* (50% advanced payment upon SPEC agreement)
Product Design Guidelines

| Grade | Period | Estimated Cost |
| --- | --- | --- |
| Grade A | 6-8 months | Approx. USD 40,000 |
| Grade B | 3 months | Approx. USD 25,000 |
| Grade C | 2 ~ 3 weeks | Approx. USD 2,500 |